To listen to your voicemail messages please follow the below steps depending on your device:
PC/Mac (Desktop)
iOS/Android (Mobile)!
Before you start please make sure you are running the latest version, if not visit our website to download the latest desktop version or the relevant App store/Google play store and update.
Desktop app
In your "Activity" window find your voicemail by this blue icon: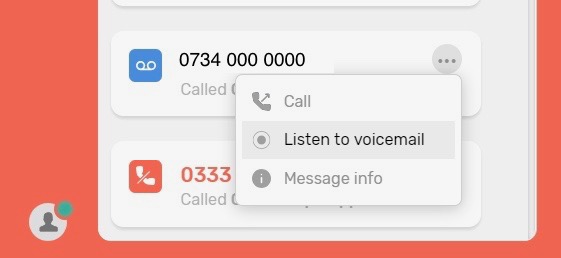 After locating it click on the three dots icon at the right top corner and select "Listen to voicemail". That opens a new window for you: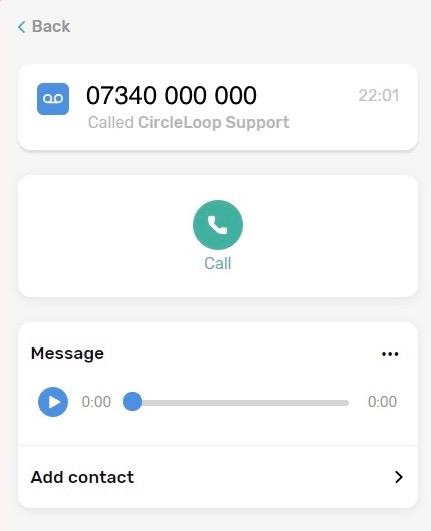 You can click on "Play" button and listen to the message they left for you. You can click on "Add contact" to add the number to your contact list or click on the green telephone button to call the number back. Clicking on Three dots will bring up menu where you can delete the message.
Mobile app
Go to your "Activity" window and locate a voicemail message. For quick access you can tap on "Filter" at the right top corner to filter only voicemail entries.
When you tap on it it will bring up submenu: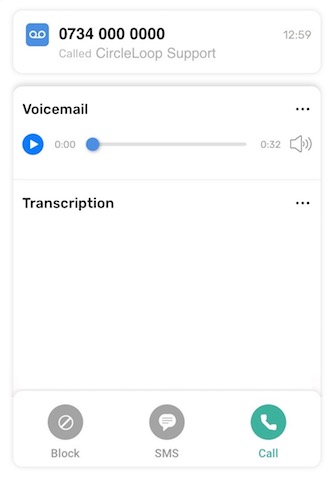 Tap on "Play" to play your voicemail message or tap on three dots above the speaker icon and select "Delete" to delete it. You can tap on three icons at the bottom of the screen to block, send a text message or call the number back.