Send inbound calls to mobile phones or other landline numbers.
You can set up this option for your users or teams as well if you are the owner of the main account under Administrator section in settings.
Before you start, please make sure you are running the latest version of our app. If not, visit our website to download the latest desktop version or the relevant App store/Google play store and update.
Desktop
Setting up a call forwarding to a specific number:
Go to:
Click on "Redirect to another number"

Here you can enter the number you would like to have your calls redirected to.
On the right side you can set the time after this call will be redirected.
To turn off this feature simply choose another option from the call settings menu (e.g. Ask to leave a voicemail).
Mobile
Tap Settings, then Calls.
Tap on "Redirect to another number".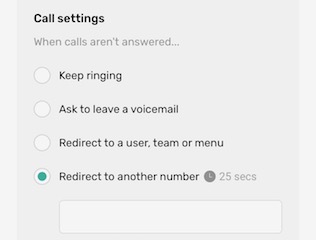 Tap into the empty box to open the numeric keyboard and type the number you would like to redirect your calls to. When you tap on the little clock symbol it opens a menu where you can choose the time delay before the call will be redirected.
When you make your choice by selecting it in the middle of the small pop up just simply tap above to the greyed area above the pop-up window to save it.
To turn off this feature simply tap on "Keep ringing" option in the same calls menu.
Call Forward Options
Announce Calls
If you select 'Announce' the inbound call will behave as normal in terms of what you see on your screen (the Caller's ID), but when you answer the call you will hear a recorded message which says "you have a call, please press 1 to accept it".
• If you press 1, the call will connect.
• If you hang up, the caller will be sent to your CircleLoop voicemail.
Announce Calls is also useful if you want to prevent inbound (forwarded) callers from hitting your personal voicemail. Remember, this is only relevant if you are forwarding calls. A CircleLoop call received via the apps will never hit your personal voicemail.
Present Dialled Number
This option will display the number that the caller has dialled (i.e. your business line) on your screen. It replaces the Caller's ID therefore allowing you to identify an inbound business call visually on screen before you choose to answer.