Add a menu to your phone numbers to route callers to the right user or team. Add a branded greeting to make it yours.
This feature allows you to setup menu / IVR options. For example, you may want to direct your callers to specific departments:
"Hi and welcome to CircleLoop! Press 1 for Support or press 2 for Sales."
To set up a menu follow these simple steps
Click the Settings button
Scroll down to the Administrator section and select Menus

Click "+ Add Menu"

You can now provide the details for your new Menu

Give your new Menu a name
Record a welcome greeting
Setup call settings (voicemail/redirect etc.)
Assign users and teams to certain options (e.g. Support Team set to option 1, Sales team set to option 2 etc)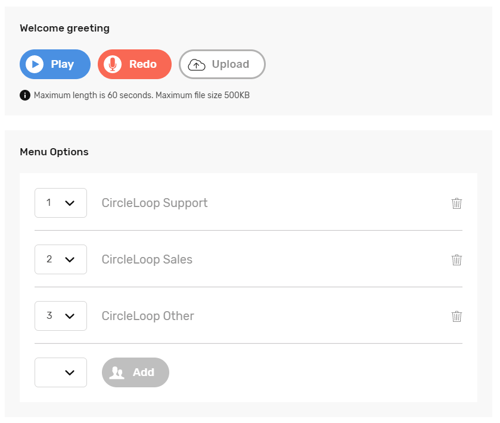 Now you have created a Menu, you can assign a telephone number to it. When somebody calls this number, they will be directed to your new Menu.
Go back to the Settings menu
In the Administrator section, select Numbers

Click the number you wish to assign to your new Menu
In the number details, click Assign

From the Assign Number To menu, click Menus
Select your new Menu and click Done