Any phone number you add to CircleLoop is instantly live and ready to use.
Choose from UK geographic, non-geographic or mobile numbers, and numbers from over 50 other countries.
What Types of Numbers Can I Add?
Removing Numbers
Adding a Number
Every CircleLoop user is entitled to a phone number, but you can also add extra numbers.
When your users need extra numbers simply go to:
Settings
Then in the Administration section, select Numbers
Select Add Number +
Select type of number

You'll then see a list of available numbers - select the one you'd like to add then hit the Done button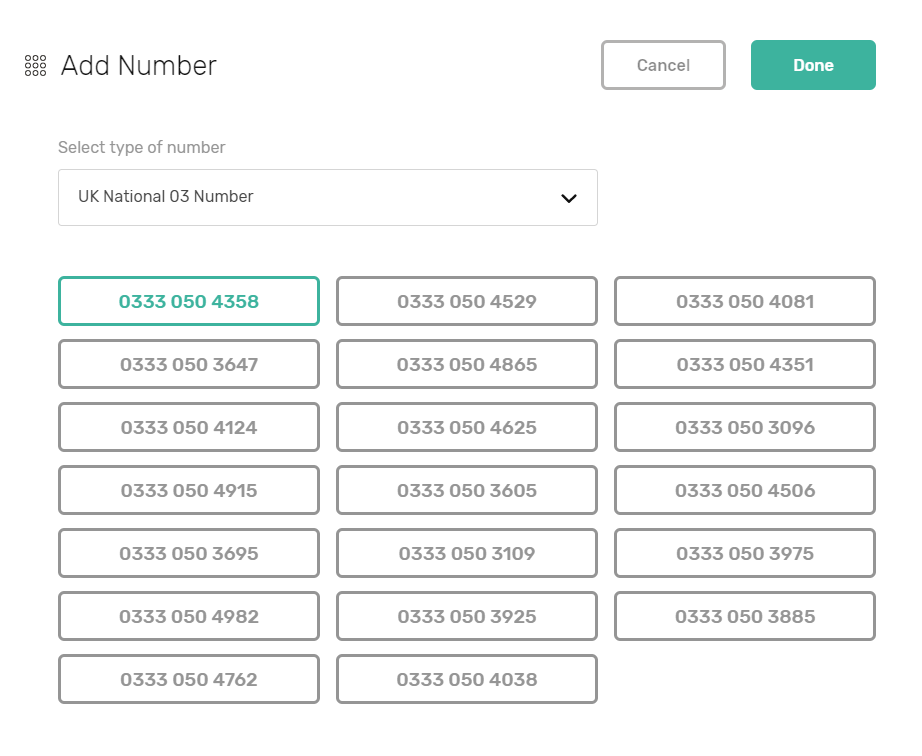 The number will be added to your account
After pressing Done you will be asked to Assign the number to either a User, Team or Menu
If you have assigned the number to a team multiple people are able to answer and make calls on the same number. Great for your main office number or departments within your business such as Sales or Accounts.
What Types of Numbers Can I Add?
You can add UK or international numbers to your CircleLoop account.
UK Town/City, National and Mobile numbers can be added using any of the CircleLoop apps from £2.00 per month +VAT.
International numbers start at £5.00 per month +VAT. To add an international number, please get in touch with our support team.
<- back to top
UK Town or City Numbers
You can choose a number from any geographic area code in the UK. These are perfect if you want your business to appeal more to a local area.
<- back to top
UK National 03 Numbers
CircleLoop offers national 03 numbers from our own 0333 number range from Ofcom. 03 numbers are perfect if you want to give your business a national presence. Calls to 03 numbers are included in all phone providers minute bundles so this is a really cost-effective way of letting your customers reach you.
More information on 03 numbers can be found on the Ofcom website.
Please note: we don't support any 05, 08 or 09 national numbers. Many of these types of numbers can be very expensive for your customers to call, so we strongly
recommend using an 03 number instead.
<- back to top
UK Mobile Numbers
Our mobile numbers are major network numbers and are treated exactly the same as calling providers such as Vodafone, EE, O2 and Three. Your customers won't be blocked from calling these numbers or charged extra unlike the premium 07 numbers offered by some other providers.
Our mobile numbers also offer support for sending and receiving text messages (SMS) using the CircleLoop apps.
<- back to top
International Numbers
We can supply international numbers from many countries at prices starting from just £5.00 per month. If you need an international number then please get in touch with us and we'll let you know availability and cost for your chosen country.
There are restrictions imposed by the authorities in certain countries where you must have a local address before you're able to purchase a number. We can offer help and advise when adding international numbers to make sure you comply with any local regulations.
<- back to top
Removing Numbers
Removing numbers can only be done by the owner of the account but is as easy as adding them! Simply go to:
Settings
Numbers (under the Administrator heading)
Select the number
If the number is assigned to a user click the Unassign button
Then hit Delete